Why Buy Bradington Young Leather Furniture?
4th Aug 2021
Buy Bradington Young Leather Furniture at LeatherShoppes.com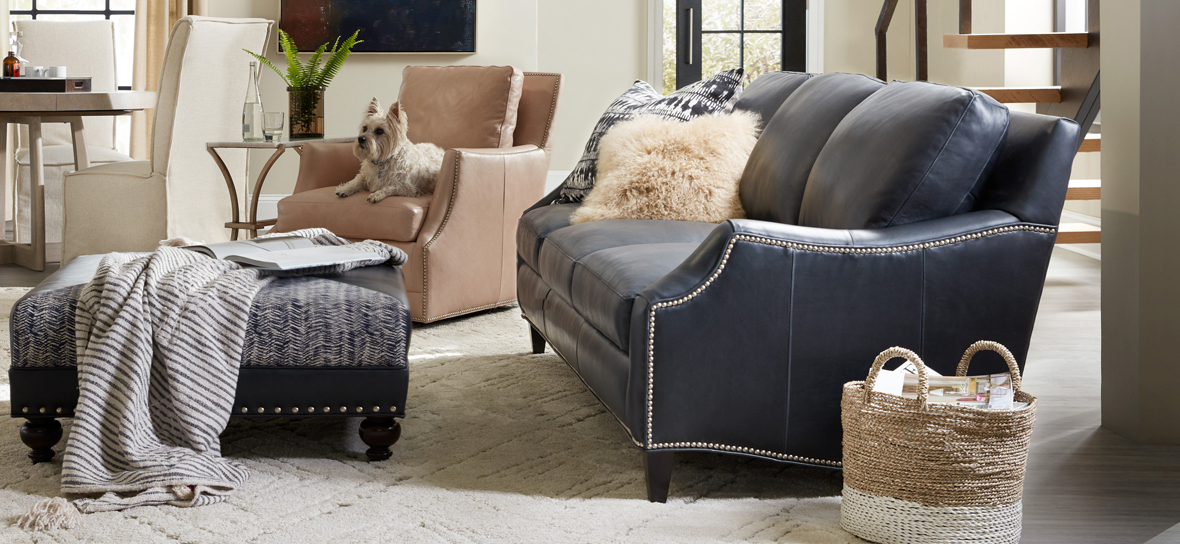 For over 30 years Leather Shoppes has been selling Bradington-Young leather furniture at fantastic savings, shipping nationwide for free. Bradington Young is based in Hickory and Cherryville, N.C.
Bradington Young offers the highest quality leather Recliners, Sofas and Loveseats and Sets and Sectional sofas that create a great area for conversation.
Over the years we have built a great relationship with this vendor and have been a big dealer during that time. We are very well versed on this brand and can answer any question about product quality, leather choices, and times frames to custom build.
Bradington Young Furniture American Made in North Carolina
Bradington Young was a smaller family-owned company, until 2002 when they agreed to be acquired Hooker Furniture Corporation. Hooker Furniture is a multi-line furniture holding company and a major producer and importer of case goods. The Bradington-Young addition allows them to offer a custom American made option to the assortment. Bradington-Young started in 1978 still operates in the same plant it did back then.
Bradington-Young builds with a true 8-way hand tied suspension, framing consists of 7/8-inch laminated hardwood frame. Years ago, they built it with solid hardwoods but due to increased costs in lumbar choose to go a different direction. We have only seen 1 or 2 issues over the last 10 years related to framing since this switch. They do offer a warranty that cover the useful life of the product.
---
Bradington Young
Comfort Never Looked So Good
---
A look at best brand rankings for Bradington Young
Bradington Young's quality rankings can be seen here on this chart. This ranking chart was originally produced in 1990's by Jim Winkler the owner and founder of LeatherShoppes.
Here shows how Bradington-Young compares to other brands in the same industry and gives you a good idea of features and benefits.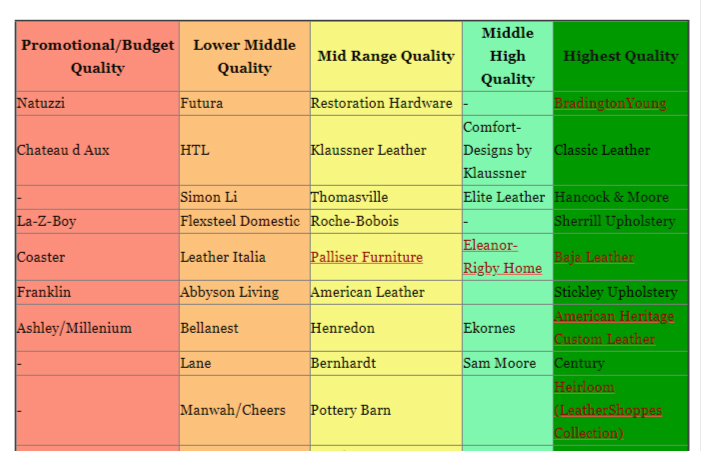 ---
---


















---
American Made Bradington-Young Power Reclining Sofas, Sectionals, and Chairs
Bradington-Young started as a "Motion" or recliner company in 1978 and was a leader in this category since that time. As the years went by, they started offering stationary seating, like sofas, sectionals, and chairs. Most of their business centers around Luxury reclining seating. This specialized category has grown to be about 40% of their business and this is due to the assortment of different options that feature Recliner Sectionals, Sofas and chairs. The popular options include Power seats and articulating head rest, along with power lumbar. These come with a USB charging port incorporated into the switch for easy access. If you want to float your leather suite in the room, rechargeable battery packs are available, which will allow you to go "cordless" and not have to worry about wires and plugs to reach the recliner furniture. Other options in a high-end quality category for recliner seating is American Heritage Leather built exclusively for LeatherShoppes.
The Best Bradington-Young Leather Recliners
It's hard to beat the comfort and quality of a Bradington-Young leather recliner. The pricing is competitive with any high-end brand. Many programs are available with promotions like the Married leather program and BYX Rapid ship program. These offer some of the most popular items in a few color choices to get at a special price and generally quicker than other more custom goods.
Bradington-Young in Stock Leather Recliners
During normal production times an "In Stock" program has recliners and sofas available built and ready to ship. (During and after the C-19 panarama) delivery times are extended, so expect to wait for production time on this program.
The stock program usually offers a great value in select leather covers, and the most popular options. LeatherShoppes offers free delivery on all Bradington-Young seating.
Create that perfect Sofa, Sectional, or Recliner from one of the better made manufacturers in the USA, Bradington -Young.