Where to Buy Natuzzi Leather and Why?
Posted by JW on 5th Aug 2021
Where to Buy Natuzzi Leather and Why?
A short History of Natuzzi and is it a good choice?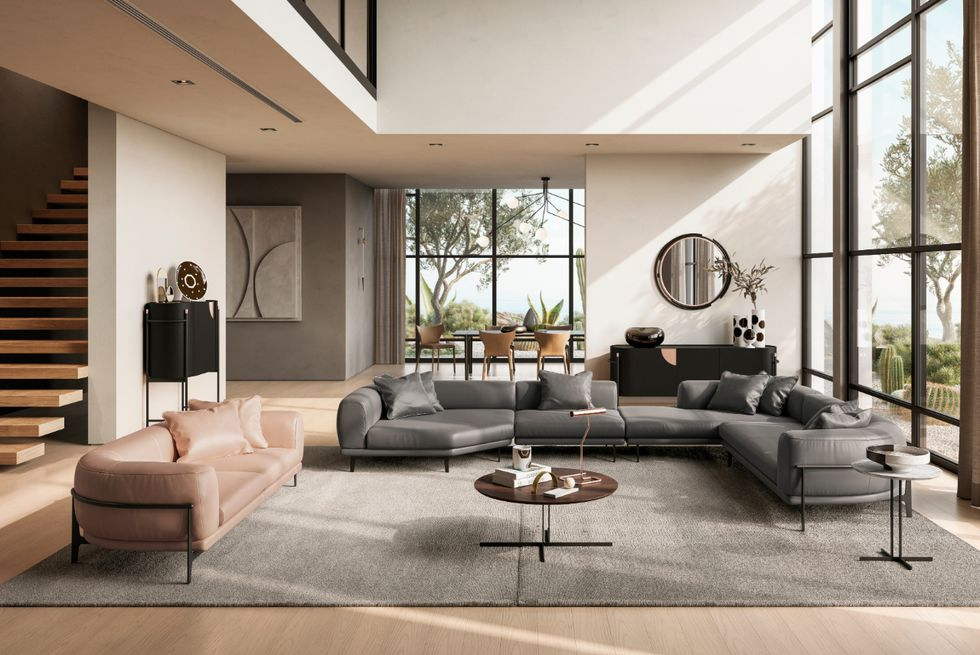 Natuzzi Leather Sectional and Sofa group
---
NATUZZI LEATHER
This name in leather furniture is well known. Natuzzi Leather started in the mid 1970's in Italy by Pasquale Natuzzi. In the earlier part of 1980's Pasquale traveled to the United States to see the furniture industry.
At that time, most of the leather furniture sold in the USA was very high end manufacturers like Classic Leather, Leathercraft, and a few others. Sofas during this period were very expensive and ranged several thousand dollars each. Majority of the consumer population were priced out of this arena and leather seating was coming off a mostly seasonal type of purchase.
Natuzzi was looking to enter the US market with a radical change of democratizing the Leather Sofa experience, making it available to the masses. The price point was under a thousand at $999.00. Pasquale visited several department store retailers on that trip like Macy's and Natuzzi Upholstery built for the US market was born a few years later. Natuzzi later went public on the stock exchange.
Natuzzi had the romance of "Italian Leather" and " Made in Italy", this provided a great backdrop to its popularity. Many Americans believed that all products made in Italy were the best. Natuzzi quickly shot up to be one of the most popular brand of leather seating in a very short time. This was due to the price point afforded by manufacturing overseas and the subsidizing of the factory by the Italian government.
---
PIRELLI WEBBING
Italian and most all European leather furniture is built with Pirelli Webbing for seating suspension. A major reason this was due to the importation of steel required to produce furniture which was costly in the 1980's. Italian seating has sleek lines and shapes and webbing provides for a simple, cheaper and easy way to create a foundation for cushions to sit on top of. When leather furniture is designed in odd shapes and curves it is virtually impossible to use a spring foundation like 8-way hand tie or sinuous springs to some degree.
Webbing is the lowest end of the suspension platform used in sofas, sectionals, and chairs today. It looks like what is used in a lawn chair, but made of rubber interlaced front to back and side to side . The best suspension for furniture and especially leather furniture due to its lifespan are as follows. Best to worst in order below.
1. 8-Way Hand Tied on steel bands
2. Drop in Coil Springs
3. Sinuous springs
4. Webbing/Pirelli webbing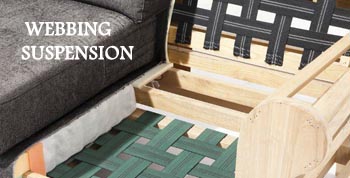 Leather upholstery as a cover for furniture is the longest lasting
upholstery covering available, so having a heavy suspension
and solid wood frame pairs nicely to its longevity. Natuzzi is
built with engineered wood (plywood) mainly OSB ( glued
pieces of cross slivers of wood) and uses webbing for
suspension. The image to the left is a cross section of what
that looks like. To see a more on this and other suspension used in seating
---
Natuzzi produces seating for just the Italian market under the name "Divani & Divani". Natuzzi also makes "Natuzzi Italia" made in "Italy" and "Natuzzi Editions" made overseas in China, Romania and other countries.
Natuzzi sold in the USA, no matter where it is made is built on the same platform and suspension, framing etc. The only difference would be where the leather hides are sourced and used, and the quality of the leather chosen.
Most consumers are shocked at how it is built when you show them the inside cut-away of the product. In the late 1980's and early 1990's we use to buy some of their furniture and cut open the seating area through the leather and reveal the " Insides". It was a great sales tool, because the consumer never knew what was under " the Hood" so to speak, you cannot see the inside area of how furniture is built when it is sitting in a showroom.
Natuzzi is available at most larger "box" stores and mass merchants and other dealers across America. It does take a good while to get an order due to it built overseas. Many stores will "stock" it in a color or two, so it may be available to take home today.
---
PALLISER LEATHER
If you are shopping in this price range of lower end furniture and like the "European Styling", but want something better built and made in North America . Take a look at Palliser Leather it is a much better alternative and value for the money and is higher ranked on the "Best Brands of Leather furniture" chart.
Here you can order from a myriad of over 80 leather colors and 6 different grades. Motion (reclining) stationary, sleepers, chairs, zero gravity, Power seating is all available to order in ship in 60 days versus waiting 6 months on Natuzzi or similar imports, if they offer a special-order option.
In closing, keep in mind the best leather furniture is not what brands you may have "heard of". This is due to advertising and what may be promoted nationally, but this is true with most merchandise you purchase. So Natuzzi may still be an option for you, if you like the pricing and the look, there are better brands available to you. Due your due-diligence and shop online and learn how leather furniture is made, so you can make the best choice for your furniture investment dollar.