How Do You Repair Damaged Leather Furniture?
5th Aug 2021
Is your leather couch looking worse for wear? Find out how to restore it to its best with our expert advice.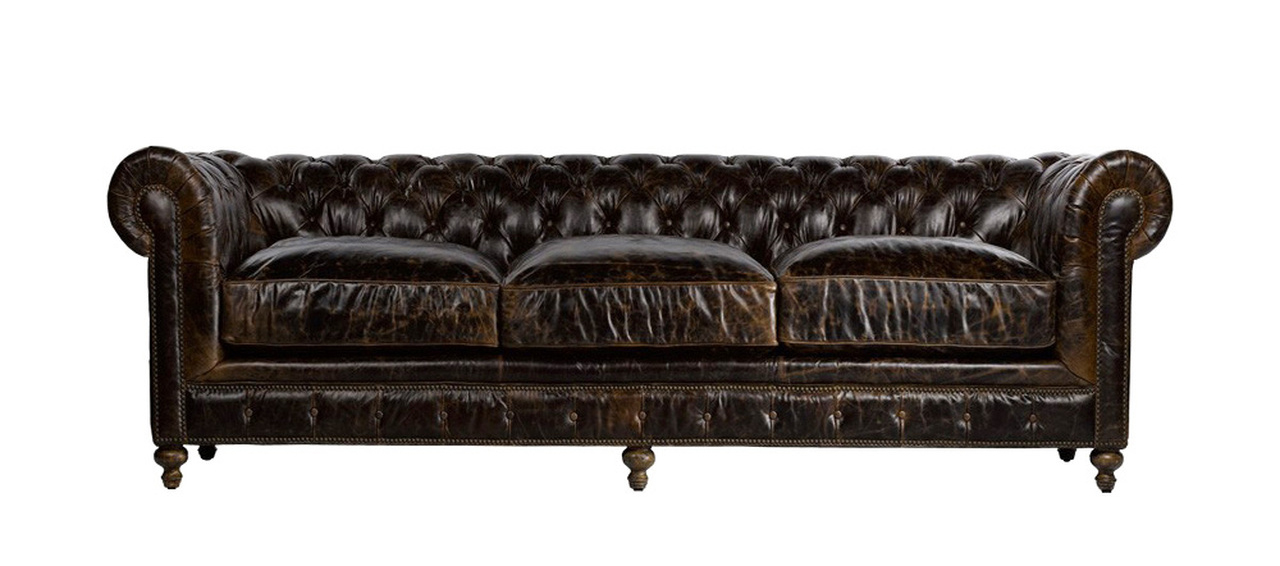 Cigar Club Chesterfield Sofa in Brompton Brown by American Heritage
---
How Do You Repair Damaged Leather Furniture?
Some knowledge on how to repair a leather couch can come in handy if you have a busy home and especially with kids and pets. Since leather is the best upholstery for furniture and easiest to clean, there may be times when something sharp or a spill occurs that stains or discolors the surface.
See: How to clean a leather sofa
---
HOW DO YOU REPAIR A DAMAGED LEATHER SOFA OR COUCH?
The reason you purchased real leather is because it is very tough and difficult to tear or puncture. It can be upsetting
as leather is one of the most expensive upholstery covers used on furniture and if you had to replace it due to damage, it can be costly.
Fortunately, that is very rare, but if a cut or Knick happens, it can be concealed or repaired to make blend or disappear almost completely.
We spoke to Jim Winkler at Leather Shoppes and his advice was, "depending on the leather finish you have this is not a problem".
If you have a Pigmented or Aniline Plus finished leather cuts, rubs and deeper abrasions from a pet or child can be touched up easily. It is best to contact a professional to address this right in the home, companies like Fibrenew , Leather Medic or Guardsman Furniture Repair are a few well-known companies that we use for repairs nationally. Cuts thru the leather can be repaired and made like new.
If you want to tackle this yourself, especially if it is a small area, like a scuff or little scratch, then you can clean the area first with an approved leather cleaner to prep the area. You can then use a Sharpie Marker or shoe polish of similar color to the leather to blend this damage. It will not ever look as transparent as having it professionally done, but may be the easiest and quickest option.

A cut professionally repaired on site and color matched
---
If the leather you own is an "Aniline" ( including Pull-up, except Nubuk) then scratches can be concealed easier. A professional will not be needed unless you have a cut all the way through the material, which is super rare.
There is a product for oiled leathers like Pull-Ups or if you have a Waxed aniline then Wax on care kit will be recommended. You can apply to the leather with a cloth and work into it and scratches from finger nails and the like will blend. If the leather is an Aniline but not a pull up, like a pure and full aniline finish then Scratch Away works for blending scuffs and other abrasions .
---
HOW TO SOFTEN OLD LEATHER?
You can soften old leather by investing in a conditioner specifically formulated for furniture upholstery. Winkler says, avoid after market products that you can buy from a big box store or for automobiles. These do more damage and will void a warranty on your furniture is used. Clean the sofa with a soft cleaner or a very mild solution of Dawn soap @ diluted with water and a clean white cloth or Neutrogena@ soap if an aniline leather. More on how to clean and condition leather.
Again, always try in a inconspicuous area first, then work in circular motions gently on the surface areas and let air dry. If you have an aniline or if pigmented /finished leather, you can dry with a towel. If an aniline clean with Nutragena@ soap and distilled water so no residue is left and clean the entire cushion area even if it is just a spot so it can dry uniformly and naturally. Apply the conditioner (be careful with anilines) next and let air dry. You can reapply to achieve the desired results.
---
CAN YOU FIX A LEATHER COUCH THAT IS PEELING?
You can fix a peeling leather couch quite easily. However, real leather does not peel or flake off. This is instead a clear indication that your couch is made of bonded or some other artificial blended leather which is also known as faux leather.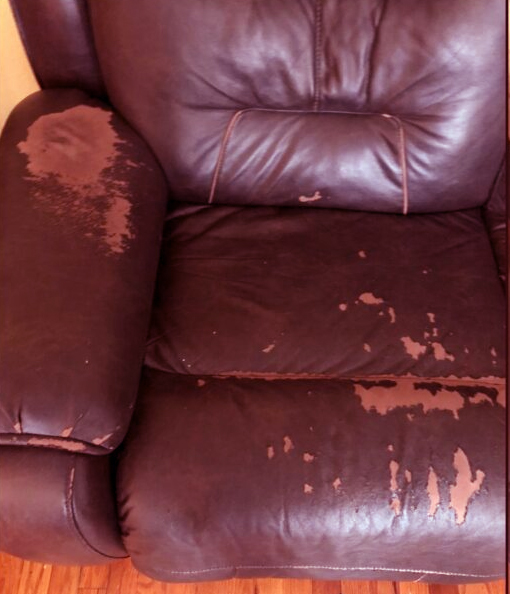 Picture of a Bonded Leather peeling
You can temporarily improve the look of your faux leather sofa with a filler and color but this will be a short term fix. It is worth considering replacing it with a real leather sofa which, while more expensive, will last a 10x longer.
'Real leather will crack rather than peel'. 'This happens due to the release of moisture, as its natural moisture evaporates ' says Jim Winkler. 'This causes the leather to shrink and stiffen and then become damaged with use.' You can prevent this by using a conditioner which should be applied once or twice a year or more depending on wear or exposure to UV.
---
HOW DO YOU REPAIR A RIP IN A LEATHER SOFA?
You can repair a rip in a leather sofa with glue, and a leather sub patch, some sandpaper and a sharp knife. You may also need some filler and a leather dye that matches your sofa. All of these items are available online or from DIY or home stores
If there is a cut through the leather like in a cushion, remove the seat cushion ( if not sewn in place) and glue a piece of leather to the underside of the area cut open. This will reinforce it and allow you to close the gap.
If the damage is severe then DIY repair may not be possible and you should consult a professional. Companies like we referenced earlier above would be the best to contact.
How cost effective using a professional would be is doubtful, especially with a lower budget sofa.
If the furniture has damage badly on a cushion it may opt to get a new cover from the manufacturer if fairly new.
If you have damage from say cats then a professional might be the only option to make this
repair not as noticeable.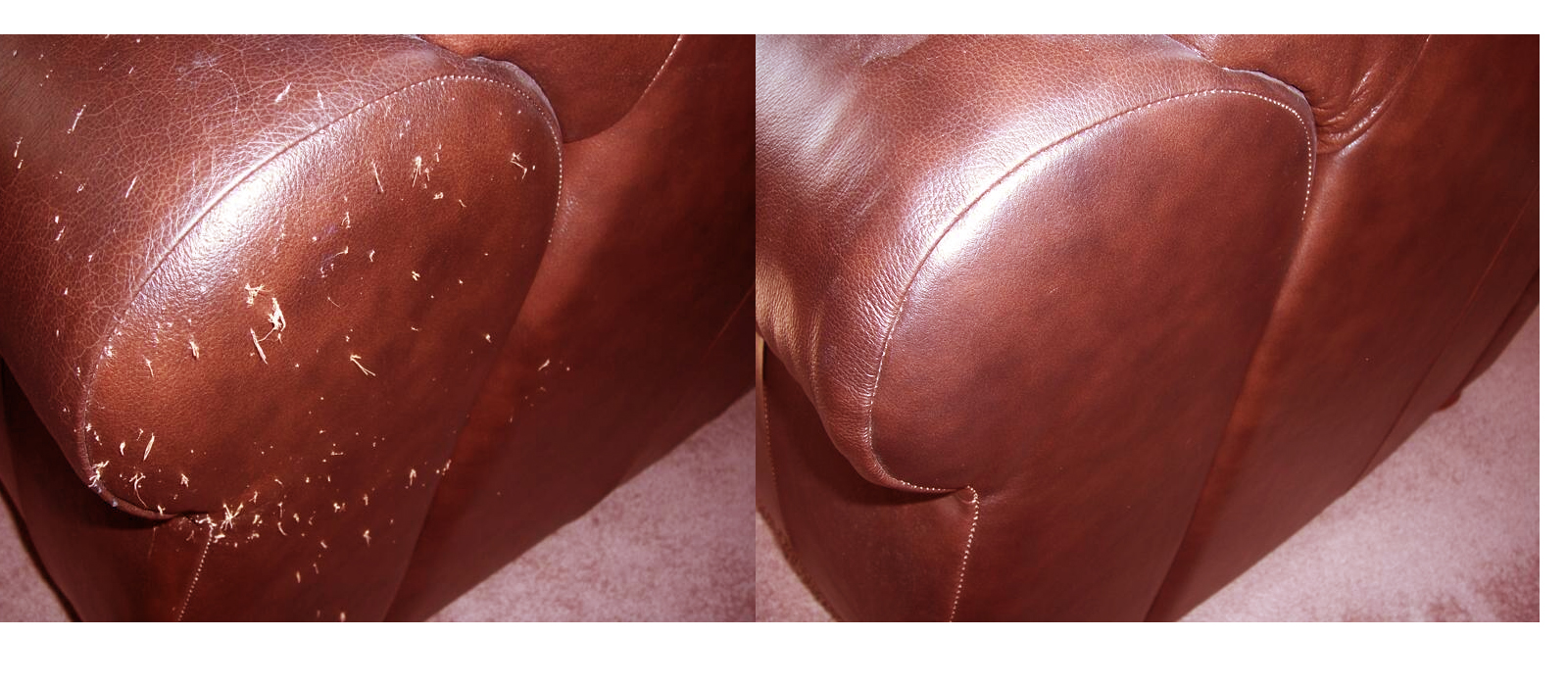 Cats damage on out arm of sofa
HOW DO YOU REPAIR A SPLIT SEAM ON A LEATHER COUCH?
When you have a seam open or come unstitched on a leather sofa or chair, in most cases it is best to leave to an upholstery shop. The leather companies referenced above do this work also, or you can contact a local area shop to blind stitch it in place. Sometimes the item may need to be done in the shop. The technician can use a matching thread or get the thread from the manufacturer who built your furniture. This way it will blend in and not be noticed.
HOW MUCH DOES IT COST TO REPAIR A LEATHER SOFA?
The cost to repair can vary widely, and will depend on the extent of the damaged incurred. Small areas can be $100- $150. If more time is involved and materials needed to repair then it can be several hundred to $500.00 to address.
For large repairs you can always consult with a leather repair company that is mobile and get a quote, or they may have you upload your pictures to them for an estimate. Sofas can be re-dyed also if you do not like the color , but this usually is not a permanent solution. It generally will not wear as well as the original dying process when the leather tannery dyed it. Cost for this can be well over $1500.