Leather Shoppes 35 year Anniversary Sale!
Posted by JAW on 27th Jul 2023
LEATHER FURNITURE SALE
---
AUGUST LEATHER FURNITURE SALE 2023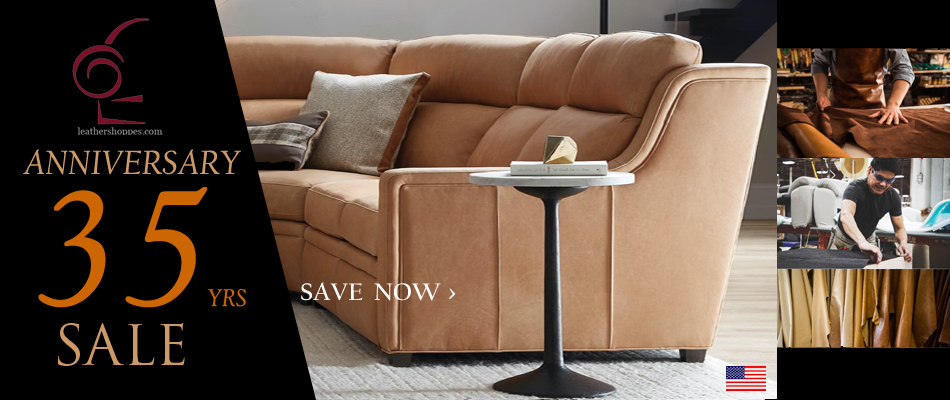 LeatherShoppes... Celebrates 35 years in Business with substantial savings!
To celebrate we are offering no interest financing for up to 1 year or bigger savings with cash discounts. Add an item to the cart for additional savings or phone us for discount pricing during this special event.
For 35 years, we have loved bringing you the best in American made leather furniture and the highest level of knowledge on the internet concerning Leather Furniture for your home or office.
Our website offers many styles and options to suite just about every need. We can customize many products to your liking and even custom size to your specifications, making your purchase unique.
With relationships we have built in the leather industry on the Manufacturing side, Retail and E commerce giving us 43 years of total experience in the leather furniture field, this allows us to pass on savings and discounts direct to you.
Leather Furniture is an investment, make a wise decision and buy it right the first time. Buying better upholstery will reflect your purchase in longevity and value for decades.
During this special event any leather, color or style is available.
* There are manufacturer restrictions on web pricing for some brands except American Heritage Custom, so be sure and phone for the best deals.
*These offers are only available for purchases for this sale and not applicable to past sales.
Leather Sofas Leather Sectionals Leather Recliners Home Furniture